Posted on
September 16, 2009
·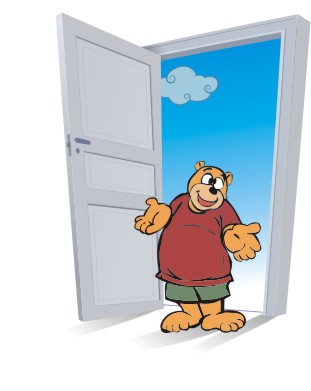 Zoho is mostly known for their Web-based productivity and business software, but sometimes they venture into … hmm… unproductivity.   In the past year or so close to a million cartoons were created @ ToonDoo, and that number grows by 3-4 thousand every day.  (Hey, even I contributed one

)
Today they have announced  ToonDooSpaces, private comics-based collaborative space for classrooms, be it school or kindergarten level.  (Remember when FaceBook – actually TheFacebook at the time – was strictly limit to the confines of actual colleges?)   What can you do @ ToonDooSpaces?  Here's how the kids at one of the pilot schools explain:

Even before this launch, ToonDoo has been used at hundreds of schools including Auburn High School, US, Totino-Grace High School, US, Leawood Middle School, US, Korea International School, Korea, Mount Scopus Memorial College, Australia, Lake Superior College, US and many others -  apparently all the way to college level.  That said I think ToonDooSpaces will be most favored by the younger ones.  Here's a detailed review by Kevin Hodgson who has been using ToonDooSpaces in his class for months:
All spring, my sixth graders (11 and 12 year olds) were fully engaged in the use of our ToonDoo Spaces site. They would walk in the door and immediately ask: Are we going to make comics today, Mr. H? And they give a little shout of "Yeah!" with a fist pump when I say "yes" (after we do whatever other work we have planned).
Here's an interactive video showing off more of ToonDoo's features:
But hey, I'm writing a business / technology blog, so let's get serious here.

   I often talk about Freemium (more here), and I think this is a perfect showcase.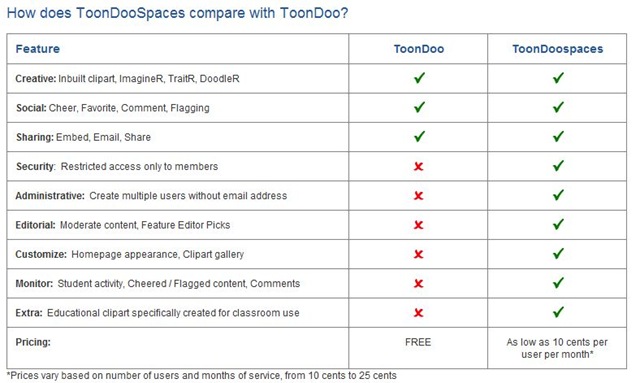 Remember, Freemium takes patience – in this case ToonDoo has been available for over a year, attracting hundreds of thousands of users before the launch of the "premium" version, Spaces.
And here's something else: I guess the inner child must have died in me a long time ago, how else do I have the most fun on the Pricing Page?  The fact is, we often talk about the need for transparency, and how SaaS should be easy not only to learn, use, but to buy, which includes price information, without having to endure lousy sales calls.  Well, it doesn't get any easier:
Move the cursor along the users / months axis, click anywhere, and voila! – there's your price quote.   SaaS companies, take notice: you can get rid of the kiddie appearance, but should offer a pricing tool this easy.
Now I am off to create a cartoon(doo).

(Disclaimer:  I am Editor of CloudAve, a Zoho-sponsored group blog.)
Filed Under: Collaboration, SaaS
·
Tagged: cartoon, comics, education, facebook, facebook for kids, freemium, kids, productivity, saas pricing, school, Social Networks, toondoo, toondoospaces, transparency, zoho