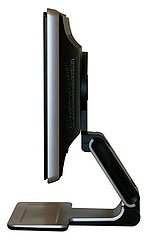 Reading this gem (hat tip: Ben Casnocha) about the nightmare of trying to get HP support their PC's reminded me of my own horror story. Actually, not horror – just comedy.
Anyway… yeah, I was weak, fell for the good deal at Costco, and got myself a Vista-loaded junk from HP. There's one component that shines – literally: the display. 22 inches of shiny black beauty, sharp screen, it tilts and moves around in every imaginable way, even pivots for a vertical view. But there was a little glitch with pivoting: I had to lie down to read the screen. There was no way to get the screen image rotate – something that should happen automatically.
I'll spare you the first 20 minutes or so of the online chat with HP support, let' s just jump to where it got really interesting:
Support: You probably have a video card that does not support auto-pivoting.

Me: That's not possible. I did not build this machine, it's a standard HP system out-of-the-box.

Support: I don't understand.
Stop. Take a deep breath. This is just hilarious. Rather than trying to find the answer, the easy way out is to claim a standard configuration HP is selling consists of a mismatched video card and monitor.

She has absolutely no idea how she is damaging the brand. Oh, well, let's get a supervisor … wait .. disconnect.
Btw, "disconnecting" appears to be a standard HP solution to support issues: I'm still waiting for this other fellow to "gather all information" to my email over a month ago. Perhaps he'll figure it out by the time I dump this PC.