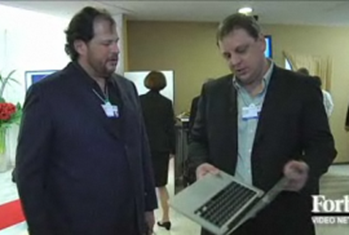 Watching Salesforce.com CEO Marc Benioff interview Mike Arrington @ Davos in January, I predicted the Big Marc was after a new job in media.  It all felt confirmed when Benioff launched a series of posts at TechCrunch (although I suspected a fellow XXXXX blogger wrote his posts).
But now it looks the other way around: Benioff stole TechCrunch contributor Steve Gillmor.
Strange.  But I could still be right.  Here's my conspiracy theory: it's a job swap.  Gillmor will soon take over as CEO while Big Marc will retire to his Hawaii Mansion to lazily edit TechCrunchIT.
Gartner probability: 0.01
(Yes, I know it's not April Fool's Day – that's how I reacted to the TC post first.)
(Cross-posted @ CloudAve )