For two days in a row TechMeme was overflowing with Microsoft news coming out of PDC: Azure, Windows 7, Web Office (whatever the MS name will be).   But on the very day that supposedly all belonged to Microsoft there was a stream of seemingly unrelated items on TechMeme all pointing in the same direction, none too good for Microsoft.
Joe Wilcox @ Microsoft Watch declared that Windows Vista No Longer Matters :
Contrary to ridiculous assertions recently made by Microsoft CEO Steve Ballmer, Windows Vista is a flop. If businesses aren't buying Vista, after waiting six (now seven) years, it's no success. Yet, during the last day of the Gartner 2008 expo 10 days ago, Steve asserted that Vista "has been extremely successful."
Success in terms of revenue does not mean actual product acceptance.  The fact is, most of the Vista revenue comes from consumers, not the corporate Market.  Consumers don't intentionally buy Vista, they buy computers: good luck trying to buy a system without Vista on it – unless it's a Mac or the refreshingly new category of Netbooks.  And if you cough up the extra $50-$99 most OEM's charge you to "downgrade" to XP, it is still booked as a Vista sale!  Like I've said before, don't be blinded by Vista sales numbers.  No wonder MS omitted the Vista licence count during last week's earnings announcement.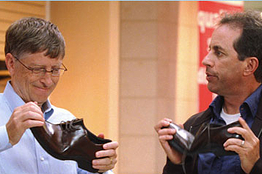 PDC has shown that Microsoft is now eager to forget about Vista, a bad dream, fully focusing on Windows 7.   They must have realized that no multi-million-dollar marketing campaign can fix Vista's badly tarnished reputation.
Where public opinion is more divided is whether this was just a perception issue, or actual product problems.  Count me in the latter camp – no Mojave Experiment can convince me otherwise.  The problem with Vista has never been appearance, or features as originally designed: it's the zillions of inconsistencies, little things that fail every day turning us Vista-users into Vista-sufferers.
The stream of messages coming out of PDC appear to confirm this: it's clear that Windows 7 does not mean major architectural, infrastructural changes – that's what Vista did.  Win7 is all about the user experience – in other words, putting the finishing touches on Vista.  I said over a year ago: we don't need another desktop OS.  But I guess I am OK with Windows 7, provided Microsoft:
Releases it as  Vista Final (meaning it works)
Provides it as a free update to Vista
Attaches  a letter of apology to all Vista victims (yeah, fat chances…)
Whether it's Vista or Windows 7, almost doesn't matter – it will likely be the last major desktop OS MS releases, and as such it represents the end of an era.  Obviously Microsoft themselves recognizes it (finally!), this years PDC is all about moving to the Cloud, be it the Azure initiative, or the announcement of moving Office to the Web.  (To be precise it's the announcement of a future product announcement).
This trend will only be accelerated by the shift in what devices we use for our (cloud-based) computing needs.  Time to Leave the Laptop Behind – says The Wall Street Journal, joined by Coding Horror's Jeff Atwood who declares: The Web Browser is the New Laptop.  Every day another Netbook is announced, at lower and lower prices, and they change how we access information forever.  I'll be devoting the next post to this subject, in the meantime leaving you with another post from Henry Blodget:  Microsoft Windows: The Beginning of the End.
(Originally posted @ CloudAve)
Related articles by Zemanta