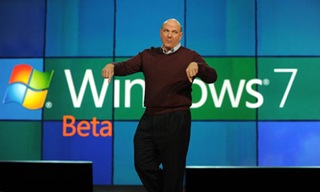 Windows 7 hasn't even arrived yet but the speculation started: What's wrong with Windows 7.  To be fair, the speculation is fueled by an unlikely source: Steve Ballmer himself.  He is trying to manage a potential fallout by warning us:
"'The test feedback (on Windows 7) has been good, but the test feedback on Vista was good,' Ballmer, 53, said in an interview last week. 'I am optimistic, but the proof will be in the pudding.'"
Indeed. But I actually think Windows 7 does not even have to be good to be a success (and my readers know I am not exactly a MS-fan). Here's why:
Vista was such a disaster, that everyone will be happy to escape it.  Says Walt Mossberg: In just two weeks, on Oct. 22, Microsoft's long operating-system nightmare will be over.  Yes, we'll be happy to leave that nightmare behind, even if we got raped in the process (had to pay ransom to get out of a failed OS)
Those who avoided Vista (smart decision), and that includes most of Corporate IT  are on a good but ancient WinXP, which will be phased out eventually, so the only choice is to go ahead with Windows 7.
In other words, this OS does not have to be particularly good.  This is it, the World will adopt it.  And if it turns out to be another dud (which I doubt)  well, we will have a few years to ponder why keep on buying software ( and that includes Office and more) from a company that hasn't been able to produce a decent OS in a decade.
(Cross-posted @ CloudAve )