Twitter is abuzz this morning with MySQL news: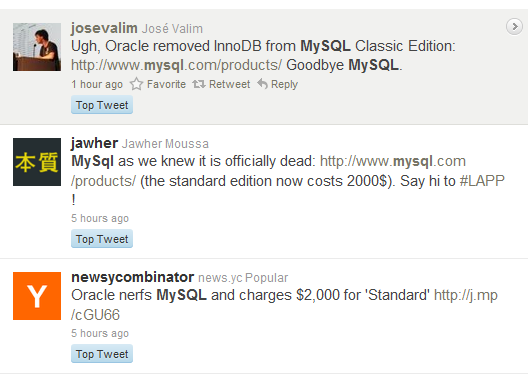 What these messages refer to is that Oracle dropped InnoDB from the free Classic Edition, it is now only available starting with the $2,000 Standard Edition.  A few days ago we heard support prices were increased – none of this should come as a surprise, the writing had been on the wall ever since Sun's acquisition by Oracle.  And of course it's not only MySQL, all Open Source products are on uncertain grounds – there's a reason why many of the OpenOffice folks split off and are now supporting the new fork, LibreOffice.
I don't pretend to be the Open Source expert, thankfully we have one, Krish, who recently chimed in on the issue.  What I want to do this morning is to take this opportunity to publish an internal email from a smart software CEO who instructed his teams to migrate away from MySQL several months ago.  While he wishes to remain anonymous, this is not a leak, I am publishing it with his permission.  (Yeah, I know, a leak would have made this story a lot juicier…).  Here's the email:
I posted this internally to an employee question why I am asking our company to move away from MySQL towards  Postgres (instead of Ingres).


I would answer the "Why not Ingres" with one word: GPL.
Let's step back and think about the  "People are angry with what Oracle is doing with MySQL" statement. Actually why could Oracle do this with MySQL? How was it possible for Oracle to do this? After all MySQL is "open source" and could be "forked" right?
To be honest, I had long anticipated this move on the part of Oracle…
(Cross-posted @ CloudAve)