Sterling Vineyards is one of my favorite destinations in the Napa Valley, and it's not about the wine.
It's a pristine setting: interesting architecture nestled in the mountains, aerial tram ride to the top, beautiful views of the Napa Valley all make it a desirable tourist destination on its own. You can easily spend an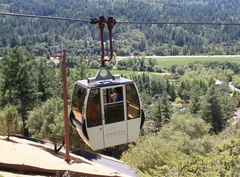 entire lazy day there. Oh, yes, they make good wine, but it's kind of secondary (well, to me

).
This being another gorgeous sunny weekend, visitors might want to check Sterling's website for opening hours and other details. Of course the site promotes wines, but it's not an e-commerce site, you can not order anything directly.
So why on earth do they feel the need to put up obstacles discouraging visitors from entering their website? You can't enter without filling out the form below. What kind of bogus "protection" is this?