When I started this post 2 months ago, it had a more tongue-in-cheek working title: NetBooks – the Little Gem in Hiding – clearly a play on Dennis Howlett's post, NetBooks – a little gem. That's because despite Dennis's positive review of this new SaaS solution for small businesses I found their website a major turn-off . I did not find a feature-list, screen prints, demos: the closest they had was a contact form to request a scheduled demo. Failure! You can't reach the "long tail" of the market via outbound sales; your site needs to be absolutely transparent, so potential customers can find all feature / price information at their fingertips, then just try-and-buy.
But what a difference a few weeks make! Having checked back, now NetBooks offers decent product information, online videos, in fact you can now set up a free trial account with sample data in minutes. (While it looks like just another contact form, the process is automated, I received my email confirmation within a minute.) Self-navigation definitely beats just watching vid's. Kudos to NetBooks for fixing a major shortcoming so fast! (Note to self: don't leave half-written posts, they may have a short shelf-life…)
Let's look at the actual system now. NetBooks aims to be an On-Demand integrated business management solution for small manufacturing businesses – in fact for other types of businesses, too, as long as they hold inventory and ship tangible products. They cater for what they call True Small Businesses (TSB), which I referred to as VSB – very small businesses, the "S" in SMB / SME. Typically companies with less then 25 employees, sometimes only 3-5, and, most importantly, without professional IT support, hence Software as a Service is a life-saver.
NetBooks tries to cover a complete business cycle, from opportunity through sales, manufacturing, inventory / warehouse management, shipping, billing, accounting – some with more success then others. Manufacturing, Inventory, Shipping and their integration to Accounting appear to be a stronghold. If you're in sales, you'd like to see a Sales Catalog, if you're in the warehouse, you want an Inventory List, and if you are in manufacturing, you need a Production Elements list: they are all one and the same, allowing you to define a product structure (Bill of Materials, BOM) with different physical characteristics, reorder points, pricing levels, warehousing requirements, marketing notes…etc. In other words, different functions can update their own slice of the same information and it's shared with others (of course in a small business several of these functions may very well be carried out by the same person.)
Not having any procurement / purchasing functions appears to be a glaring omission: after all, if you're in manufacturing, you will likely need to buy some components / materials.
Another function, nominally present, but rather weak is CRM. I can set up a Revenue Opportunity list, track contacts, events, even financial terms per record, but what's the point if I can't turn these into a Quote, later a Sales Order? In fact I have to start a sales order from scratch, and it does not update the opportunities: unless you close them out, they will show as prospects long after you shipped the order, invoiced the customer and received payment.
Sales Order creation appears to be a watershed event in NetBooks: that's when the system comes alive, integration gets better from here, with information flowing through nicely. Completing the order creates a shipping document, confirmation of the shipment creates a a billing request, invoice. Even external services are integrated well, like UPS for Online Shipping and PayCycle for payroll . There's a complete "document trail", you can start from the accounting side, too: from Accounts Payable (invoice) you can trace all actions back to the shipping doc, sales order…etc.
I understand why Dennis with his accounting background considered this system a gem:
As an accountant by training I often make the mistake of taking the number cruncher's view. On this occasion I don't have to. The way NetBooks is organized, you enter it according to the role you fulfill. That means you only ever need use the screens that are pertinent to you.
Real-world people record their real-world transactions: manufacturing, physical movement of goods, and the system records the facts in Accounting. NetBooks is an accounting system at it's heart, but one without the need to deal with accounting screens. This should not come as a surprise, given Founder Ridgley Evers's own background: he was co-founder at QuickBooks, the de facto standard for small businesses.
Most of the sample data in the NetBooks trial system appear to have come from Evers's real-life business: Davero Ingredienti, a purveyor of olive oil products, and I think this very well represents the type of small business NetBooks may be ideal for: relatively stable, has a good repeat customer base, receives a lot of inbound orders and needs to execute on manufacturing and shipping to these customers. It badly lacks stronger Sales features, and a more flow-oriented thinking to support aggressively growing businesses.
The User Interface is nothing to call home about. You certainly won't find the lively charts and dashboards seen at Salesforce.com, NetSuite, SugarCRM, Zoho CRM …etc. But having a simplistic UI is one thing, making it outright boring is another, and hard to use is a capital crime. In NetBooks you basically navigate through small text lists, then double -click on an item to drill down to more details, wait long (the system, at least the trial one feels very slow) for several overlapping screens to pop up. You have to close or move around some of these pop-ups to see what's underneath. And whoever came up with the idea of clicking on those tiny arrows should be banned from web design for life.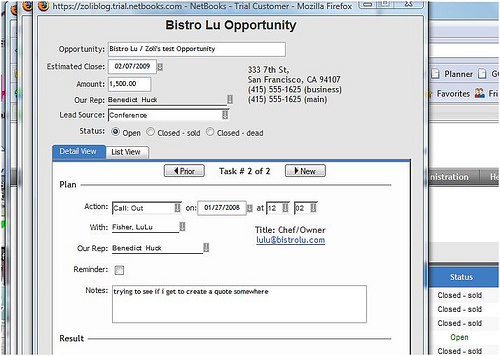 Seriously, this isn't just the lack of rounded-corners-gradient-colors web 2.0 goodness: the poor UI, the microscopic arrows to click on render NetBooks a pain to use.
Although I've been quite critical in this review, I still like the NetBooks concept: give very small businesses an integrated system they previously could not afford. NetBooks starts at $200/month for 5 users, additional users seats are $20. That's a fraction of the current "gold standard" in the space, NetSuite – although the step up to NetSuite also brings a wealth of new functionality. Finally, SAP's Business ByDesign is worth mentioning: when it becomes widely available, it will be the most function-rich SMB SaaS solution – but their entry point is about where NetBooks's upper limit is.