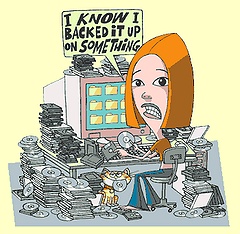 We can argue all we want about the benefits of SaaS, discuss hypothetical use cases at length, but the best showcases are served up by real life, often unexpectedly.
A startup CEO friend asked me to take a look at his PowerPoint deck before he would send it to a VC. (Incidentally, I don't believe presentations should be sent in advance of a meeting: if your deck has enough content to convey the message standalone, than it's not a presentation… but let's put that aside for now.) I agreed to help, and he fired off an email with the PPT attachment.
Too bad I could not open it. I have MS Office 2003 on my Windows computer – that's the last version I purchased, since moving to the Cloud, and I won't buy an Office package ever again – and he has Office 2008 on his shiny Macbook Air. (Standard issue for hot startup CEO's in San Francisco?). Yes, I know there's a converter thingie I can download from MS, but apparently I haven't done it on this particular computer, so my friend quickly saved it for me in the older format.
I reviewed and commented on it, and as an aside noted that the fonts and the text alignment were way off on a page. He did not see the text problem on the version I sent back. Then came a second round of conversions and emails. It became apparent that no matter what we do we always end up seeing different layouts – so much for the MS to MS conversion – so we just focused on content, and I sent back the revised version. It took a while… hm, no wonder, the PPT deck that started it's life as a 2MB file first became 5, then 7, finally 9 Megabytes. Wow!
What an inefficient process! Emailing multiple bloated copies of the same file, never seeing the identical version, leaving quite some footprint behind, when we could have started with an online presentation, collaboratively work on the one and only copy online, see the same and not clutter several computers with the garbage files.
I will come back to this in a minute, but here's another benefit my CEO friend missed out on: providing the latest and greatest information. The VC Partner he was talking to was about to to go on vacation, and she was planning to review the presentation in the next 2 weeks – who knows when. This startup was at the time in advanced discussion with major prospects, and signing any of those deals would materially change the presentation. Had my friend sent just a URL to the online presentation, he could have safely update it any time, and be assured that whenever the VC reviews it, she will always have the latest and greatest information. Does this scenario ( sans the VC) sound familiar? How many times have you hit "send" only to wish you could retract the email and replace the attachment with the correct version?
Back to the storage footprint issue. On my count, just between my friend and myself, we generated and stored nine copies of this presentation, the last one being 9MB, up from 2. It's probably fair to assume a similar rate of multiplication in the process the original deck was created, between the CEO and his team. Next he sends it to the VC, who will likely share it with several Associates in the firm, and in case there's more interest, with other partners. Of course my friend will send the same presentation to a few other VC firms as well, so it's not beyond reasonable to think that there are at least a hundred copies floating around, occupying a Gigabyte of storage or more. Oh, and I did not even consider the footprint of this presentation at ISP's and all hops it goes through. Not that I ever bought into IDC's Storage Paradox, but this is clearly a very wasteful process.
All of that could be replaced with one central copy on the Web, represented by a URL.
Oh, and the irony of all this: my friend is CEO of a GreenTech startup.

(Cross-posted from CloudAve. Follow our CloudAve Feed for more)