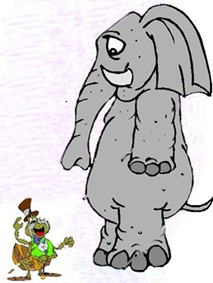 In my recent Suites post I said there were exactly 1.5 (one and a half) integrated full business solutions (SaaS Suite, SaaS All-In-One, SaaS ERP, SaaS SMB ERP – take your pick or  create a new one) offered as a service.   The one in that equation was NetSuite, and the half is SAP's Business ByDesign.
The half is getting close to becoming full, bringing the total number of solutions to two.   SAP's ByD, originally launched in 2007 was a functionally rich solution already at launch – in fact I called it the most complete SaaS Suite not available customers. And therein lies the rub.  Functionally rich, but a phantom product that only a few selected early customers could get their hands on.  And it wasn't simply a marketing / segmentation blunder as some analyst thought, it was all about architecture: SAP missed out on the economics of multi-tenancy, and realized they could not profitably operate and scale what they referred to as "mega-tenancy" – so they went back re-architecting ByDesign.
The lost 2 1/2 years were a gift to competitor NetSuite, and they milked it every possible way.  SAP announced entry to the SaaS SMB space validated their market, and their own delay was an open invitation to NetSuite. As CEO Zach Nelson said at their recent earnings conference:
I'd like to thank SAP for being our IBM.
NetSuite never shied away from aggressive marketing (I guess that's the Oracle blood in their veins), starting from pranks like the SAP for the Rest of Us Party during SAPPHIRE 2006 to staging a shootout at the anti-SAP Conference or releasing edgy videos a'la Mac vs Windows.  But the biggest coup, one with definite gains was the Business ByNetsuite program which we covered here:
The aptly named Business ByNetsuite program guarantees at least 50% savings to current SAP R/3 customers relative to  – watch this! – the annual maintenance fees they are now paying to SAP.  Yes, it's not a price-to-price comparison.  With the perpetual licence model customers pay upfront, but are still forced to pay annual maintenance fees – with SaaS there is only a subscription fee, and now NetSuite proves it can be half of only the maintenance component of traditional software's TCO.
Yes, NetSuite took deals from SAP and of course amidst all the chest-thumping they did not particularly emphasize the fact that that these were often divisional deals:  smaller divisions of large companies, often replacing legacy systems as a result of an acquisition with the parent company running SAP.  NetSuite even developed  NetSuite-to-SAP connectors for enterprise reporting, fully recognizing they won't be replacing SAP on the corporate level.
Now of course these were relatively easy wins when NetSuite was the only game in town – and that's about to change, as SAP is getting ready for General Availability of a new Business ByDesign in July.  And SAP CEO Bill McDermott fired a few salvos over to NetSuite in his announcement, as quoted by Reuters:
McDermott said he believes Business by Design's sales will be able to quickly surpass those of NetSuite, which last year posted $167 million in revenue.

"When Business by Design is coming at them like a 99-mile-an-hour fastball, let's see how tough they are," McDermott said of NetSuite.
Winning against SAP when they had no relevant SaaS offering was one thing, going up against a functionally strong product will be another.  NetSuite is changing tone, comparing the two offerings, as show by this slide I received from NetSuite: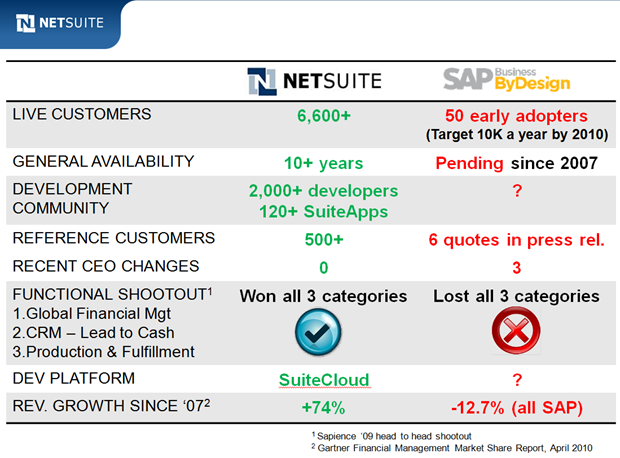 This must be the first time SAP finds themselves on the wrong side of the David vs. Goliath equation (or is it the elephant vs flea?  – but who is the elephant and who is the flea in the long run?).   I have an issue specifically re. the functional shootout, which was rigged at best.
As for the rest of the comparisons, a fair summary is that neither side is a newcomer.   SAP is the granddaddy of business processes with 30 years of experience, but they are new to operating / scaling a cloud environment – something NetSuite has a head start on them.
I have reasons to believe (more on that in another post) ByD will not be a failure this time around, and NetSuite will have to adopt to competing with a real product vs. a phantom.  It will be a healthy change, with customers now having a choice of (at least) two well integrated SaaS offerings.  In the end, customers win.
(Keep an eye open for the next post on ByD and beyond…)
(Cross-posted @ CloudAve)