Wow, quite a firestorm on a weekend over whether startups should hire only workaholics or not. It's tip #11 on Jason Calacanis's How to save money running a startup list that ticked off many readers:
Fire people who are not workaholics. don't love their work… come on folks, this is startup life, it's not a game. don't work at a startup if you're not into it–go work at the post office or starbucks if you're not into it you want balance in your life. For realz.
The edits show how Jason re-wrote this point after harsh criticism like Calacanis Fires People Who Have A Life on TechCrunch and Fire the workaholics by 37Signals. I don't think he had to edit it, anyone who had been at a startup, who understands startup dynamics should "get it".
He is talking about the need to have highly passionate team members, who at a certain stage of their life and the startup's life are willing to – and happy to – shift their priorities. You can't force people to be workaholics, all you get is slaves in a sweatshop, and that not only causes burnout, it does not produce quality results anyway. David at 37Signals is right:
If your start-up can only succeed by being a sweatshop, your idea is simply not good enough. Go back to the drawing board and come up with something better that can be implemented by whole people, not cogs.
Agree. But great founding teams are often made up of workaholics – it has to come from the fire within, not forced. These guys locked up in a live-and-work apartment probably did not have 8-hour workdays, yet didn't look too unhappy. A year later they are growing, picked up two rounds of funding, have 20 employees and even put TechCrunch in the toilet.

I don't expect their 20th employee to be just as passionate as the Founders, but it can't be a 9-5 type person either. At this stage they still need driven Team Members, not simply employees.
Most startups that grow to a certain point will lose this team atmosphere at some point. They will start to hire more "regular employees", many of whom are opportunity seekers, in for quick ride, ready to jump ship any time. Too bad, but it's a fact of life.
Not everywhere, though. 37Signals is still a small team (by choice) but not really a startup anymore. They seem to have found the golden balance between work and life, having introduced 4-day workweeks, funding team members' passions, be it flight lessons, cooking classes…whatever. I don't think they whine if (when) the occasional crunch comes. Another "startup" (not really, anymore) I often write about is Atlassian: at $30M revenue and 130 employees they still preserve a unique culture, do a lot of programs together, and generally working there is a lifestyle, not just employment.
The above two have something in common, other than having good products: they did not take VC investment. They can pretty much do whatever they like. Maintaining a great team is no just a means to business, it's part of their ultimate purpose.
The weekend firestorm comes completes a full circle: in a second TechCrunch article Mike Arrington comes to Calacanis's defense: Startups Must Hire The Right People And Watch Every Penny. Or Fail. This is a very good article, I wholeheartedly agree with it. And while at it, let me also refer you to Startups: Executive Hiring Challenges or Beware of the Suits.
On a lighter note, the CEO of another self-funded former startup, Zoho apparently heeded 37Signals advice, and fired all his workaholics.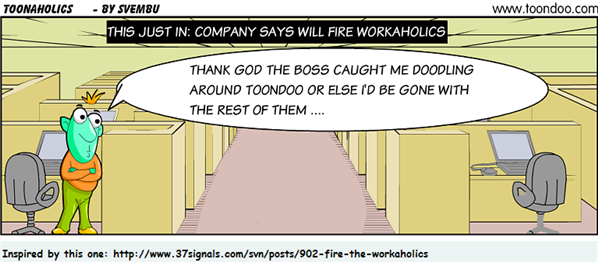 (Not really… Watch out for a major product announcement next week.

)
Update: This quick rant by Bob Warfield is worth reading:  Startups Need Starters