As much as I moved online I'm not naive enough to believe I'll always have 100% broadband availability. Crazy shooters, limited conference availability, or just traveling to less covered areas (and I don't mean here) – there will be times when we need our documents offline.
Seamless online/offline access has just become easier today, with Zoho introducing offline support for your Writer documents. Ironically, this has been implemented using Google Gears, not yet offered in Google Docs & Spreadsheets. (In all fairness, we don't really know if a Gears-based offline mode in in the plans for Google docs, there was some speculation that StarOffice becomes an alternative).
In Zoho Writer you just click "Go Offline", and if you don't have it yet, first this will trigger the Google Gears download/install process, than, and any time after this it will simply download your Zoho documents to your local PC. Your documents are available at http://writer.zoho.com/offline. See more details on this video:
For now, offline access is read-only, but Zoho is working on providing active editing capabilities in the next few weeks. It's worth mentioning that Zoho has long offered an alternative, the Zoho MS Office plugin (previous coverage here) .
Commenting is another important feature added in today's update. Now that there are three recognized leaders – Google, Zoho, ThinkFree – on the online office market, niche players (e.g. Coventi) pop up here and there focusing on a particular area not supported by the "Big Three". The problem with being a feature-based niche player is that you can never know when the "majors" add your feature-set. Zoho has just done it.
You can easily add a comment, and of course all users the document is shared to can do the same, making up a conversation-thread, indicated by a comment icon (
) in the text. Clicking on it pulls up the actual comments (see below), or you can see all comments inside the document by clicking on the comments icon (
) on the status bar.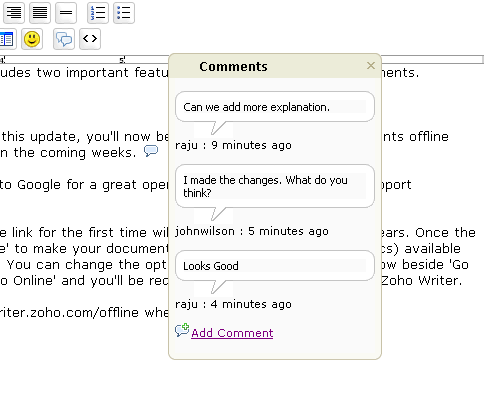 Talk about conversation let's not forget that Zoho Chat is integrated right into Writer, so you can have real-time conversation with your collaborators or leave comments. As usual, Zoho will continue enhancing the comments functionality.
(Disclosure: I'm an Advisor to Zoho)
For additional coverage, read: TechCrunch, Read/WriteWeb, Mashable, Proud Geek, Open Source Guy, Techchee, Collaborative Thinking, TechBizMedia, Insider Chatter, Download Squad, jkOnTheRun, Office Evolution, CNET News.com, mathewingram.com/work, Ajaxian, CyberNet Technology News, Profy.Com, The Universal Desktop, PC World, Techdirt.