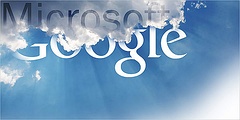 Ever since it's inception the Windows Live brand was a source of confusion: is it web-based computing, new desktop tools, or just a fancy name for MSN services? The confusion apparently continues even as The New York Times heralds Microsoft Windows Live, which is to receive a new unified installer this week as a major move to "Cloud Computing". "The empire is preparing to strike back" – a clear reference to Google.. don't you just love the illustration?
Whether this is a Google-killer move or not (personally I doubt it), I welcome any major player's move to the Cloud. I've been a long-time advocate of on-demand computing, which got only reinforced by the painful experience of adding a third PC to the household. Trying to keep three computers (and two operating systems) in sync is a major nightmare, and ironically some of the Windows Live components come to my rescue, exactly because they are not in the cloud .
Foldershare is a very handy tool that keeps several PC's in sync. Configuring your folders to be synchronized takes places on the Web, but the actual synchronization process is P2P, in fact in a local network your data typically stays behind the firewall throughout the entire process. It's not magic though, as sometimes it fails to synchronize, and leaves only placeholder *.p2p files. Too bad it never tells you, and while you think your data is safely synchronized, you can never know. Another "shortcoming" (although by design, and some might actually find it an advantage) is that sync can only occur with at least two computers on simultaneously, since the data is not stored anywhere. Now that Microsoft announced their Skydrive, I hope they will tie in Foldershare, offering the option of either direct P2P or web-based sync, which could also become your online backup.
Talk about irony, how about this: although Google is the champion of moving to the cloud and Microsoft the defender of PC-based computing, I am struggling to use Google's otherwise excellent but single PC-based product, Picasa over several PCs, and if Windows Live Photo Gallery has a better architecture, I'll switch in a split second. What an upside-down world!
Windows Live Onecare is another important piece of the Live package – but it has nothing to do with on-demand computing, being a package that needs to be downloaded, aimed at keeping your local PC safe.
How about Windows Live Writer? It's the best offline blog editor I've seen for along time – but again, strictly offline.
Actually, we don't even have to look at the individual applications: this week's news that triggered a flurry of posts is about a Unified Live Installer, which by definition is the good old model of downloads, updates, patches went wrong, reboots..etc – there is no install in the on-demand world.
All in all it's safe to conclude that Windows Live offers a number of very good applications, but in the Cloud it is NOT.
Related posts: TechCrunch, All about Microsoft, Download Squad, Mobility Site, Sadagopan's weblog …, Read/WriteWeb, 24/7 Wall St., LiveSide, Mashable!, Profy.Com, Geek Speaker , WinBeta, Fake Steve Jobs (
), Clickety Clack.