This morning Zoho announced the Enterprise Edition of their CRM product. The key updates are:
Introduction of Role-based Security Administration
Profiles for managing CRM module-level permissions
Roles for modeling organizational hierarchy and setting up data sharing rules
Groups for sharing the data among various departments
Field-level security for controlling the access rights (View or Edit) of fields in CRM modules
Enhancements in product Customization & Data Administration
Multi-language Support (11 Languages)
SSL Support for Professional & Enterprise Version
Integration with Zoho Sheet
Improved Business Functionality
Automatically update Stock information once the Purchase Order is approved
Find and Merge the duplicate records in Vendors module
Convert Quote to Sales Order or Invoice in a single click
Convert Sales Order to Invoice in a single click
Add account information automatically while creating quotes/orders/invoices from the potentials
Wiki-based Context-sensitive Help

The key in "going enterprise" is no doubt the new security/permissioning scheme. That said, Zoho CRM has already been functionally rich even before today's upgrade. I've repeatedly stated that supporting business processes like Sales Order Management, Procurement, Inventory Management, Invoicing Zoho really has a mini-ERP system, under the disguise of the CRM label.

. In fact let's just stop here for a minute.
Today's announcement aside, I still consider Zoho's primary focus to be the small business (SMB) market. As for CRM, it really comes down to the classic breadth vs. depth of functionality question. Zoho CRM's breadth, along with the other productivity applications allows many SMB's to use it as their single, only business application. The market leader in SaaS CRM, Salesforce.com clearly supports fewer business processes, offering more depth in each – probably a better fit for larger enterprises which likely run several applications anyway. This matrix provides an overview of Zoho CRM vs. Salesforce CRM Group and Professional Editions. (click on pic for detail)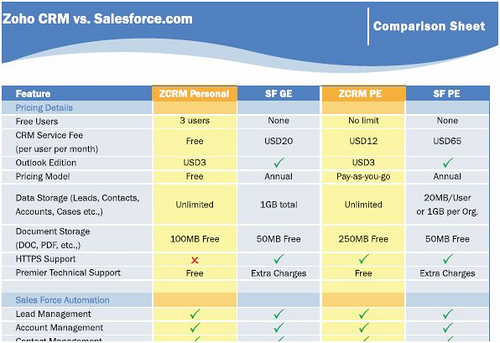 Having done a functional comparison, a quick look at pricing demonstrates why Zoho CEO Sridhar Vembu called Salesforce.com still very expensive: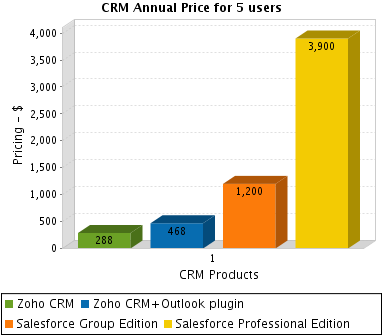 No wonder Larry Dignan at ZDNet declares "Zoho aims to poach Salesforce.com customers." But Larry (and Marc), you ain't seen nothing yet… just wait till Zoho comes out with a Salesforce.com importer

.
Clearly, Salesforce.com does keep a close eye on Zoho, otherwise why would they spend money on the Google Adword "Zoho CRM"?

But again, reality check: Salesforce.com does own the Enterprise space. For now.
Finally, a word about integration. After all, Zoho is known for their almost endless range of products, they should work together… Currently Zoho Sheet, the spreadsheet application is fully integrated with CRM – most data can be edited either inside CRM or in the spreadsheet format that many business users are more familiar with.
Zoho plans to integrate Writer, their word processor, Mail (still in private beta) as well as some of the business applications, namely recently released Invoice and People. When all that's done, Zoho will have a more complete offering than two industry giants, Salesforce.com and Google together. I can't wait…
(Disclaimer: I am an Advisor to Zoho. Take anything I say with a grain of salt. In fact with a pound of salt. Don't believe a single word of mine about Zoho products: go ahead and check them out yourself).
Related posts: Zoho Blogs, CenterNetworks, VentureBeat, CNET News.com, Mashable!, Between the Lines, Web Worker Daily, Irregular Enterprise, InformationWeek,