(I broke up my originally long post into two pieces: this one about the product announcement, and the next one with the business analysis)
Zoho, best known for their Web-based Productivity (Office+) Suite today released Zoho People, a feature-rich On-Demand HRMS – Human Resources Management System.
Several modules support the work of managers, HR professionals:
Organization for defining corporate and departmental structure
Recruitment for managing recruitment processes and maintaining resume databases
Checklist for defining business processes and workflows in the organization
Forms for defining custom business forms using the integrated Zoho Creator
Dashboard to overview it all
All the setup, be it form changes, new forms or field, org chart changes ..etc happens via a friendly drag-and-drop interface.
While all the above is for Management, HR, perhaps Training, Travel professionals, most "regular" employees in a company would only access the Self Service Module, which is split to an Employee and a Manager Self-Service section. Requests can be sent to the HR department on job openings, employees can submit information like Expense Reports, Vacation, Training Requests to the relevant departments/managers as pre-defined in the workflow…etc.
For a detailed feature overview, watch this demo video.

Zoho People from Raju Vegesna on Vimeo.
The application is currently in Beta, and for the Beta period it will be free, independent of the number of users. After the Beta pricing will likely involve a dual scheme, with ad-hoc users (regular employee accessing Self Service) paying less than full users (typically HR professionals.) While no numbers have been announced, Zoho claims the blended price level will be disruptive – something to the scale of Zoho CRM, which is about 10% of the cost of it's main competitor.
Talk about CRM, it's worth mentioning that while Zoho's fame comes from the Office Suite (or the extended suite of Productivity Apps), this is not their first foray into business applications. Zoho People joins Zoho CRM, Zoho Meeting, Zoho Projects and Zoho DB. Below is an overview of the entire Zoho Portfolio: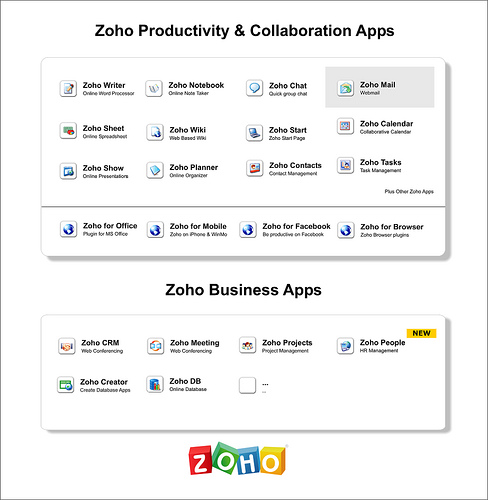 Please read my next post for a business analysis on what Zoho's entry to the HCM space means.
(Disclaimer: I am an Advisor for Zoho.)
Related posts:  Between the Lines,  Zoho Blogs, Deal Architect, Centernetworks, Wired,