Foldershare is a life-saver: a peer-to-peer file synchronization product that does its magic in discreetly in the background, with the user barely noticing it even exists. While it needs to log in to the MS servers, it does NOT sync / upload actual data, all synchronization is strictly P2P. In fact one of the setup options is to define whether you allow remote P2P sync to occur through the Net, or strictly on your LAN, behind the firewall.
I've been using it for years now, as part of my data sync and backup strategy: I let FolderShare synchronize data between two laptops and a desktop, then I use the desktop as the "master" which will back up data online to Mozy, the other life-saver.
Of course using two products for somewhat similar purposes is redundant, and I have previously speculated that Microsoft should tie Foldershare and Skydrive (Live Mesh, Live Drive – pick your favorite buzzword) offering both PC sync and Web backup. I wonder if it's about to happen.
I noticed this weekend that my computers could sync without them being online at the same time – which is (used to be? ) a primary requirement for FolderShare to work. Now I could repeatedly test turning off all but one computer, update files on the one with FolderShare running, then shut down FolderShare, start another machine, and voila! – my changes got synchronized. How was that possible when it had nowhere to get the information from, other than the Microsoft servers? (unless the closed program left behind a process running, other than Foldershare.exe)
If this means FolderShare is no longer strictly a P2P product, I actually welcome that change – except for the fact that it happened unannounced. Leaving users in the belief they are only sync-ing data between their own computers when in fact it' stored on Microsoft's servers would be a serious violation of their privacy.
Interesting coincidence (is it?): FolderShare will have a planned outage of 48-72 hours this week. 72 hours (3 days!) is a lot of time, it should be enough for major changes. In fact more than enough – such outage would be unacceptable from any service provider – except apparently from Microsoft

. (Yes, I know, we get what we pay for, and this is a free service – it's still a ridiculous outage.)
Update: Further testing reveals that the actual data files are not transferred between offline computers, only the *.p2p placeholder files. Sigh of relief: your data files are not stored on Microsoft's servers. BUT …. BUT: the index is indeed stored centrally. This did not appear to be the case with the original FolderShare by ByteTaxi, prior to the MS acquisition. I don't know when it changed, and I don't recall being warned about it. The former FolderShare user agreement page disappeared and I haven't found any updated information on FolderShare's site.
Update (6/24):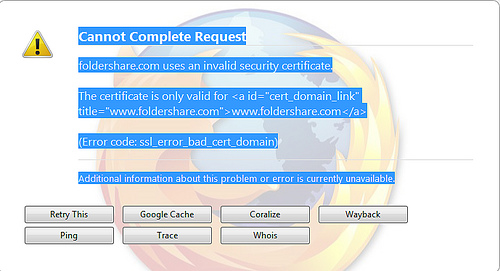 Ouch!  C'mon guys, this is so simple, even I could fix it.