Nothing about the Office 2.0 Conference is even remotely ordinary.
Start with the organizer, Ismael Ghalimi, CEO of a VC-funded startup, Intalio.  That's normally a full-time job – not when it comes to Ismael: he is also a scuba-diving instructor, a pilot, launched Monolab|Workspace, (is that Incubator 2.0?), launched the Extreme Productivity Seminar series, oh, and have I mentioned the annual Office 2.0 Conference?  ( I actually know his secret, he has two body doubles, I just haven't been able to prove it yet

)
Pressed for time he is turning a necessity into a virtue: year by year the Conference is a showcase of creating a successful event out of nothing in only two months. I remember the first event in 2006, when a couple of us Enterprise Irregulars were helping him plan the sessions only weeks away from the start.  A few days and a few blog posts later Ismael got flooded with request for sponsor and speaking slots.  This year history repeats itself: just a month ago the conference site was a placeholder and one could only wonder if … then a new site was born overnight, based on Jive Software's excellent ClearSpace platform, and now it's alive with user participation, sponsors, registration..etc.
What's a Web-focused Conference without wi-fi?   It's a joke that in 2008 conferences, including brands like Web 2.0, Gnomedex …etc.  still fail to provide sufficient connection.  Ismael's solution includes laser beams to the top of the building, another one down to a terrace, then inside – making it happen with Swisscom was quite a project in itself.  Office 2.0 set the standard once and for all, anything less at major conferences is a failure.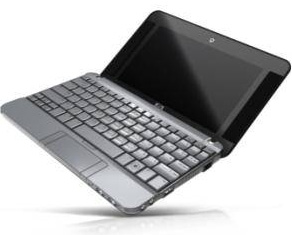 Then there's the issue of The Gadget.  I believe the iPod at the first conference was just more-then-generous swag.  The iPhones handed out at the second conference had an integral part at the event: several applications released specifically for Office 2.0 allowed participants to interact with each other, navigate the schedule and find sessions.  This time all paid participants will receive a the HP 2133 Mini-Note PC.
Yes, the conference swag is not pens, stickers or t-shirts: it's a mini-computer, which cost about half the registration fee.  It will clearly raise eyebrows, and many would prefer to skip the gadget and pay reduced fees.  I think handing out such an expensive gadget will have an interesting effect on the conference demographic: we'll likely see an increase of corporate employees, who can expense the entire conference and are less price-sensitive than startups and freelancers – the original Office 2.0 crowd.
But that may very well be what the conference needs.   There's a reason why this year's theme is Enterprise Adoption.  The Office 2.0 movement wouldn't go very far with only the early pioneers, evangelists talking to themselves, dissmissing enterprise requirements.  For the principles to become practice in business, we need a more balanced mix, and in a twisted way the gadget may just help achieve that.
Those who can't afford the full registration are not entirely locked out: Socialtext CEO and top evangelist Ross Mayfield will facilitate Un-Conference 2.0 the day before the official conference, at a cost of $50.
Finally, startups have a chance to present the attending VCs, media, bloggers at  LaunchPad – Ismael announced this event over the weekend, and already has 10 particpants – get in there while you can.  Note to my (numerous) VC readers: I hope you will be there, too.
If you're still hesitating, check out the Agenda, the list of Speakers,  Media representatives,  and if you haven't done so, register now.
I've saved the best for last: don't use the standard registration, save $100 by registering here.
Update: while I was typing here, fellow Enterprise Irregular Dennis Howlett explained why this is an Irregular (pun intended) Conference in more than one way.  Update to the update: see Susan's excellent summary.
(cross-posted on the Conference Blog)