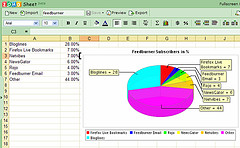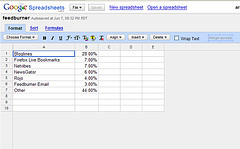 Almost a year ago I wrote about a visual comparison of Google and Zoho spreadsheets. At the time, Zoho simply KO'd Google, which had no charting support whatsoever. Of course this was more then just a "beauty-contest": charting is simply the most effective way of visually conveying a message, and as such a "must have".
It's time to update that comparison (I'm using the same spreadsheet, updated to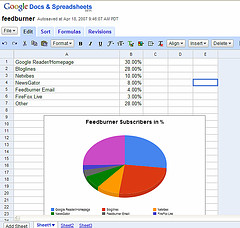 today's numbers), since Google has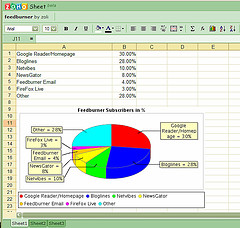 announced charting capabilities today, adding 18 types of charts to select from (Zoho has 27, and ThinkFree 32).
Clearly, Google is catching up on the appearance front, the new charts are appealing. (Click on the pics to view the public version of the original spreadsheets).
On the publication side, Zoho still leads: instead of using images, like I did here for the sake of comparison, I could have simply embedded the system-generated script which would keep my Zoho Sheet inside this blog post up-to-date. In fact sometimes it makes sense to publish only the chart, without the underlying spreadsheet, like this:
The chart to the right is not an image, any changes in the originating spreadsheet will be immediately reflected in the published article.
The addition of charts was announced today in Google's usual, understated style; in fact the first blog post on the subject was titled How to make a pie. For all I know it could have been Grandma's Apple Pie recipe.

Contrary to this the other Google announcement came with a lot of hoopla, CEO Eric Schmidt dropping the news of Google's Presentation software in front of ten thousand Web 2.0 Expo attendees. The only problem is, unlike Zoho and ThinkFree, Google does not have the Presentation creator/manager yet, it won't be coming for months, and as Google Blogoscoped observes, this preannouncement "Microsoft-style", instead of just releasing products and let users discover them is "uncool" – and a break away from Google's good traditions.
Talk about announcement, Zoho, which has made it a tradition to launch a new product at just about any event – and in between – surprised: there was no announcement. Are the sleeping? I think not, in fact as Advisor to Zoho I am quite happy with them announcing no announcements: they plan "not to release any new application until we open up our existing private-beta applications (Notebook, Meeting & Mail)".
Those who attended the SMB Application Marketplace session at Web 2.0 Expo may have picked up on something more to come though: responding to a moderator question, Zoho Evangelist Raju Vegesna stated they want to "become the IT department of small businesses"… and there is clearly more to SMB IT than just an Office Suite.
Like I've stated before, 2007 will be the year when it's all coming together.
Update (4/18): Note to Google: it's *not* a very good idea to display my email address on spreadsheets I choose to make public. Sorry, Google, my mistake, I used the wrong URL (not the public one).
Tags: google, google apps, google docs & spreadsheets, charts, charting, presentations, online presentation, powerpoint, presently, zoho, zoho suite, zoho sheet, zoho show, thinkfree, weboffice, office 2.0, web2expo, web2expo07, microsoft, preannouncements, vaporware, smb, sme, saas