First impressions: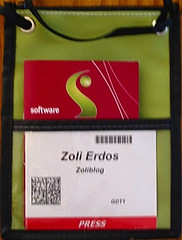 Registration is smooth, there's hardly any wait. Hm.. am I too early… where is the crowd?
This is growth: the badge is triple the size from last year: it's actually a little bag, with a zippable compartment to store goodies. Are we close to dressing up in a badge? 🙂
WiFi: Finally, free WiFi! (Oops, it does not work in the main Conference Hall, where the Opening Keynote is about to start.
MR Rangaswami, Opening Speech
Started this event in 2003,in the middle of the tech depression, still had 1100 participants – today it's 1900. Now we're thriving. Theme for this conference is Innovation. Name a few innovative companies: Apple, FedEx, Southwest..etc. But where's software?
Innovation in software was thought of as product innovation. Get it out the door, see what customers say. Industry changed, innovation is more than Product Release.
McKinsey Innovation Tech Vendor Survey.
PE funding is now larger than VC funding. Surveyd 475 customers: 55% believe innovation is on the upswing. CIO's expect innovation from "little guys". (contrast to recent other survey)
Share of software expanding withing IT budgets.
Download two surveys jointly issued with McKinsey:
Enterprise Software Customer Survey
State of the Software Industry
New Sand Hill Index (stock index, obviously public companies)
Hasso Plattner, SAP
Innovation, Speed, Success. Uses blackboard-style slides, with chalked handwriting. Dressed in matching black:-)
This is good, breaking it out in separate post…