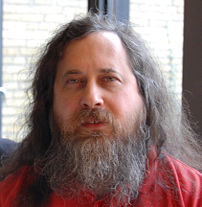 Image via Wikipedia
Are Open Source and Cloud Computing anachronistic enemies? You'd think so, if you read GNU creator Richard Stallman's interview in The Guardian:
Cloud computing was simply a trap aimed at forcing more people to buy into locked, proprietary systems that would cost them more and more over time.

"It's stupidity. It's worse than stupidity: it's a marketing hype campaign," 
Sure, there's a lot of marketing hype as it is typical with any major technological advancement, especially as it reaches the peak of its hype cycle.    But I think Stallman loses sight of who the "enemy" is.
Related articles by Zemanta