Harvard Prof's Andrew McAfee and Karim Lakhani have just completed the first ever Harvard Business School case on Wikipedia, which largely focuses on the infamous Enterprise 2.0 debate. Enterprise 2.0 has undeniably become mainstream since the original debate – just check out the Enterprise 2.0 Conference in Boston.
There is some irony in this situation though: The deletionist argument was that "Enterprise 2.0" is not original and there are not enough independent references. Well, what better reference and validation that a Harvard Case Study? (Of course hard-core deletionists could still argue that the Study is not about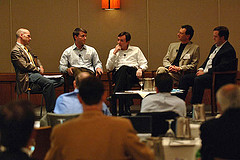 Enterprise 2.0 as such but the debate itself, and as such self-referential and unacceptable as an independent source…)
Why Epilogue to the Epilogue? Because I've already written an epilogue to the debate.
(Photo: Prof. Andy McAfee moderating a panel on Enterprise 2.0 with fellow Enterprise Irregulars Jeff Nolan, Ismael Ghalimi, Rod Boothby and yours truly).
Tags: wikipedia, enterprise 2.0, wikipedia debate, deletionists, inclusionists, harvard business school, hbs, harvard case study, enterprise irregulars