If there's one application where the benefits of collaborative creation, sharing, easy access from anywhere speak for themselves, that's presentations. After all, we rarely create presentations to ourselves: it's a one-to-many, or more typically few-to-many situation. But dealing with version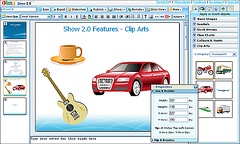 number 115 of the Sales Presentation, just figuring out which one is current, let alone contributing to it while someone else might be working on a different version is a nightmare – and when you're ready to present, you're still prone to accidents like this.

However, until now, we did not have a truly powerful online Presentation tool. Today (actually, on the weekend) it all changes: Zoho Show 2.0 is a truly PowerPoint-class application to collaboratively create, edit, show and share online presentations.
The user interface has been completely revamped, and you can start building your presentation by picking one of the 50+ default themes. You'll find extensive support for shapes, clip-art, flow-charting, bullets and numbering. Images can be easily manipulated, rotated, flipped around.
Most presentations don't start from scratch though (you had to get to version #155 somehow..), so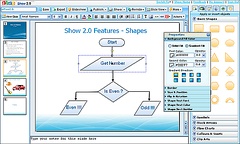 Zoho's import facility is now significantly improved. I've tested it by importing several PPT decks that had suffered some deterioration in Show 1.0 – they come out perfectly in 2.0.
Show 2.0 now is a perfect online replacement for PowerPoint, except for transition effects, which are in the plans for Zoho. And that's a comparison from a single user's point of view. But again, presentations are rarely single-user projects… Zoho Show has built in Chat to facilitate work with your co-creators, and it also integrates Zoho Meeting, a full-blown conferencing, desktop-sharing application. Here's Wired on the subject:
Given the slew of new features and slick interface, it makes more sense to compare Zoho to Powerpoint than other online competitors like Google. But even against desktop apps Zoho Show comes out a ahead in many areas — version control, sharing, online collaboration and ability to embed finished slideshows on your website are all features you won't find in most desktop applications.
As they say, a picture is worth a thousand words, so I'll stop talking – here's a Show 2.0 presentation instead:
There's also a video, which I am not embedding, as my blog often chokes while waiting for Viddler…you can easily watch it here though.
Finally, that remark above about the weekend: this is not a pre-announcement, Zoho Show 2.0 is ready, I've played with it. However, the servers will be updated this weekend, as there may be some downtime involved, and the Zoho team is trying to minimize the inconvenience. Show 2.0 is expected to be available late Sunday.
Read more on: TechCrunch, Read/WriteWeb, CenterNetworks , Mashable!, Between the Lines, Wired, Zoho Blogs
(Disclaimer: I am an Advisor to Zoho)
Update (12/15): The update appears to be done, if you log in to your Zoho account, you'll see Show 2.0. (Remember, the update was expected later during the weekend, I've just accidentally discovered it now, which does not mean it's really complete – the Zoho team might very well be still tuning it.)
There are some amazing slideshows in the Public presentations area, like this, this, this, this, this, this, this, this, this and this, just to pick a few.