(Updated)
SAP is not a technology company, it's the world's leading business process company – says Shai Agassi, President of SAP's Product and Technology Group.
Niel Robertson, one of the SAPPHIRE bloggers (or the Brotherhood as we're often referred to) thinks through the consequences in an excellent article, The New Corporate World Order. It's a very deep, thoughtful post, simply too good to summarize, please just read it. I was trying to find where I heard Shai express similar thoughts, and I realized it wasn't at SAPPHIRE 2006, but at Software 2006, just a few weeks earlier. Here's the relevant slide: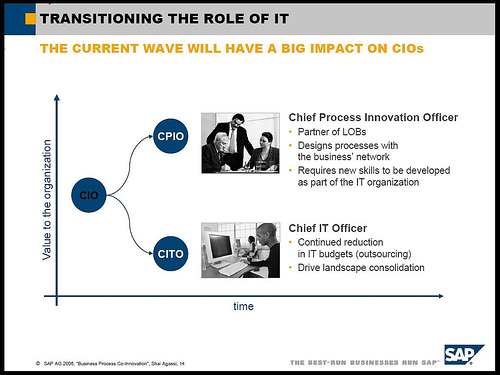 The entire presentation, titled Business Process Co-Innovation; "Enterprise 3.0" is available in PDF format here.
Update (5/23): Niel's original posts created quite a debate, so he reposted the comments here. Wow, comments take over.. this is the real conversation!