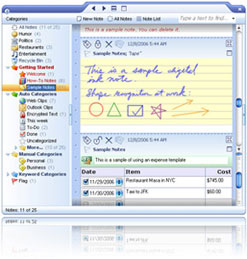 EverNote was my favorite notetaker for several years – now I have a love and hate relationship with it. Why?
The love part is easy to understand; it's a handy, easy-to-use notetaker, which I preferred to the comparable Microsoft OneNote, and the $0 price is quite unbeatable. (I did not need handwriting, so I used the free "light" version).
The hate part: it really did not fit into strategy of moving off the desktop into the Cloud.
In fact it was the only application that broke my sync efforts between two laptops using FolderShare: if EverNote was loaded at bootup (which is the best way to use it), it "renewed" it's data file even on the PC I was not actively using, and FolderShare would attempt to overwrite my good working copy with an older one (which however had a newer time stamp). Eventually I just got sick of it and stopped using EverNote.
Ideally I would need an online/offline note-taker, and I really don't care if it's a web-based product with offline capabilities or a client product with sync to the Web. Last year EverNote received $6M funding and was expected to release the web-enabled version in a few months. A year later than predicted, but here's a new version, but from what I can see without the Web capabilities. That said, it is still a good – perhaps the best – offline notetaker, and if that's what you want, then today is the day to download it: The $50 full version is available free, only today.
Installation is a bit confusing: first you unzip a file, click "setup" only to find it unpacks yet another set of files, then you can click the real install file. Before you get to install the program, you somehow find yourself connected to giveawayoftheday.com which will tell you your program is now activated. Whether that's the case or not I don't know; after installation there is no way to tell if my program is registered or not, there is, however a "purchase" link… not very promising, but let's hope. You will know in 60 days, when some features either de-activate or not. Confusion aside, you should perform the installation today, as somewhere along the process I saw a warning that the install, not just the download has to complete within the promotional period (today).
As for the Foldershare / Sync problem, here's a good workaround. Happy note-taking!